Cosmetic Dentistry in Ware Creates Stunning Smile Transformations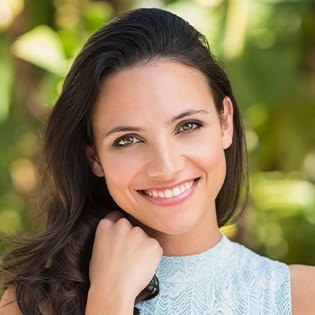 There is nothing that can brighten a day more than a beautiful, radiant smile. On the other hand, it can be embarrassing to show your teeth if they are damaged by unsightly dental conditions. To give you the confidence to smile again, our skilled dental team at Dhillon Family & Cosmetic Dentistry provides exceptional cosmetic dentistry in Ware. Cosmetic dentistry is the branch of dentistry that focuses on improving the overall appearance of your smile. It encompasses many different treatments to fix dental trauma, replace missing teeth, whiten your smile, and much more. Dr. Dhillon may suggest cosmetic dentistry to repair:
Cracked or chipped teeth
Missing teeth
Discolored, stained, or yellowed teeth
Teeth with old metal fillings or crowns
Teeth that appear unusually short or long
Crooked teeth
Irregularly shaped teeth
Gapped or spaced teeth
Teeth damaged by dental trauma
We will be able to determine which cosmetic treatments are best for you after a thorough cosmetic consultation.
Is cosmetic dentistry safe?
Our cosmetic dental treatments are considered both safe and effective. Our goal is to not only improve the appearance of your smile with cosmetic dentistry but to also improve your smile's ability to function healthily and properly. We will walk you through each step of the treatment process and make sure all of your questions and concerns are addressed. To schedule your consultation, please contact our office today. We look forward to helping you achieve the smile you have always dreamed of!
Invisalign® Clear Braces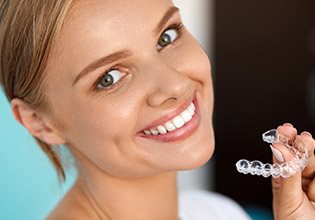 Invisalign can correct gaps between teeth, overbites, underbites, and other orthodontic concerns without the cumbersome metal braces that you're familiar with. Instead, patients will use a series of clear oral aligners that are barely noticeable and conveniently removable. Most cases are complete after just 8-18 months!
Learn More About Invisalign® Clear Braces
Teeth Whitening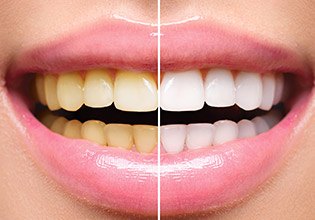 If you dread seeing your smile in the mirror because of dental stains or discoloration, teeth whitening can restore your enamel's confident, bright shade. Dr. Dhillon offers custom take-home kits that can be used on a flexible schedule whenever the patient has time, and it only takes a few weeks of consistent use to achieve noticeably beautiful improvements.
Learn More About Teeth Whitening
Porcelain Veneers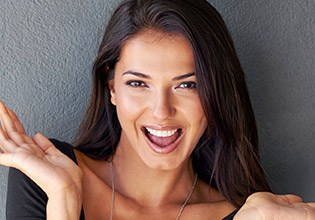 If you're hoping to correct several smile flaws at once here in Ware, porcelain veneers are an excellent option. These restorations are designed to be extremely thin in nature so that they can fit over the visible surfaces of your teeth while still looking natural. Veneers are attractive, durable, and built to last for several years.
Learn More About Porcelain Veneers
Lumineers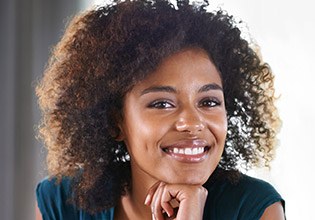 Porcelain veneers are a very popular cosmetic service today, but some patients shy away from them because they do require a small amount of natural tooth enamel to be removed, making the treatment permanent. Alternatively, Lumineers are a new type of veneer that can create similar aesthetic improvements as the traditional model with only a minimal amount of alteration, and they are reversible as well. Dr. Dhillon can review the unique benefits of both traditional veneers and Lumineers with you in greater detail during a consultation so that you're able to select the one that fits your smile goals best.
Metal-Free Restorations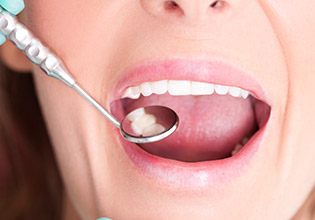 If you're worried about having to correct a damaged or missing tooth with a noticeably dark-colored restoration, consider a metal-free alternative here at Dhillon Family & Cosmetic Dentistry. Our tooth-colored materials are so lifelike that they even have the same translucent qualities as your original enamel, and their biocompatible structure is safe and comfortable within the mouth as well. Dr. Dhillon can design lifelike crowns, inlays, onlays, bridges, and more.
Direct Bonding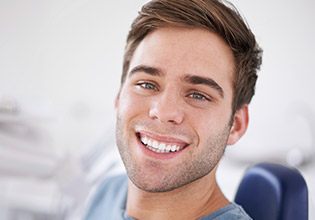 Direct bonding could be the right choice for you if you're stuck with relatively small cosmetic imperfections, such as a minor chip or a thin gap between teeth that nonetheless stands out in photographs. This procedure only takes a single appointment, during which Dr. Dhillon will apply tooth-colored composite resin to the affected tooth/teeth and sculpt it into a pleasing, natural shape that fully covers the offending spot. Direct bonding should not be considered a permanent solution to aesthetic worries, but it can serve your smile well for multiple years.