Porcelain Veneers - Ware, MA
Get a Flawless Smile with Porcelain Veneers
Do you often feel self-conscious because you dislike how your teeth look? You are not alone. In fact, two-thirds of adults do not like their smiles either. You can transform your confidence with the attractive smile you have always wanted with porcelain veneers in Ware. Dr. Navkiran Dhillon has completed advanced training in various areas of specialty dentistry, including cosmetic services. She offers the individualized treatment plan you need to fall in love with your smile.
What are Porcelain Veneers?
Veneers are thin shells made of porcelain that are used to dramatically improve the appearance of a damaged or flawed smile. Bonded to the front of your teeth using a special cement, veneers can last for over 10 years when taken care of properly.
Porcelain is the preferred material because it allows the veneers to be made thinner. As a result, less of your tooth's structure is removed during the bonding process. This makes the treatment minimally invasive while also protecting the integrity of your tooth. Porcelain also closely mimics the appearance of enamel to enjoy natural-looking results.
Different Types of Porcelain Veneers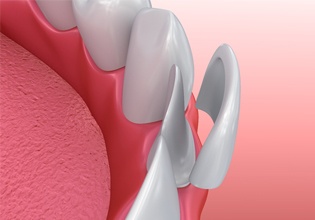 After an initial consultation, Dr. Dhillon discusses the results you want to achieve to create a customized treatment plan. She will help you determine which type of veneer meets your needs while also giving you the results you want.
Traditional Porcelain Veneers
Traditional veneers often require a small amount of enamel to be removed to ensure they sit flush on your teeth. This makes the treatment irreversible; however, they tend to last longer than other types of veneers. Although the procedure is minimally invasive, a local anesthetic is often used to ensure your comfort.
Minimal-Prep Veneers
In some cases, your teeth may not need to be prepared before bonding the veneers, but there are still some instances when modifications must be made. If any changes are required, they are often minimal, allowing the treatment to be reversible if you change your mind.
What is the Procedure Like?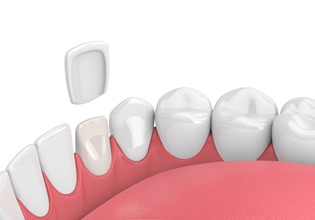 By utilizing the skill and compassion of our dental team, receiving veneers is virtually painless. The process generally requires two to three appointments; however, some cases can be completed in a single day.
During the first visit, we discuss how you want your smile to look and prepare your teeth by gently removing a small layer of enamel. This is done to accommodate the size of the veneers and prevent your teeth from looking abnormally large or bulky. Impressions of your teeth are taken and sent to a dental laboratory, where your veneers are custom-made. While they are being created, we provide you with temporary ones to maintain your smile.
When the veneers are back at our office, we make any final adjustments and permanently bond them to the front of your teeth.
What are the Benefits of Porcelain Veneers?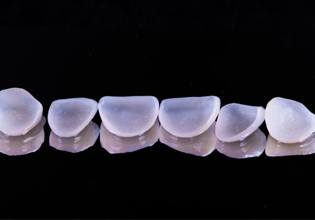 Overall, veneers improve the color, size, shape, and proportion of your teeth. They can be used to correct several imperfections, including:
Abnormally shaped or shorter than average teeth.
Breaks, cracks, or fractures.
Tooth discoloration.
Minor alignment concerns.
Gaps between your teeth.
Veneers are an excellent option for redesigning the look of your entire smile.
Understanding the Cost of Veneers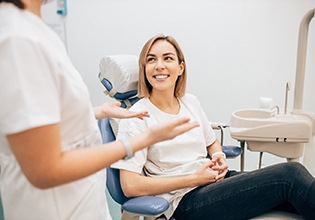 Interested in learning about the cost of veneers in Ware? That's a completely natural part of the research process. After all, how can you commit to a treatment without knowing the price? However, it is important to note that veneers aren't a one-size-fits-all solution, so there isn't a flat fee. The good news is that getting a price estimate is as easy as scheduling an initial consultation with our team! In the meantime, keep reading to learn more about the cost.
Cost & Cosmetic Dentistry: What's Right For Me?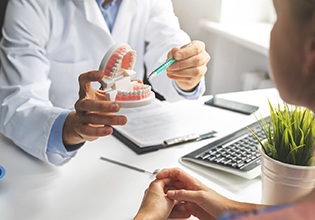 Whether you're unhappy with your smile due to a few minor gaps or pigmented discoloration, there are several cosmetic dental treatments available. Here are a few of the most popular ones and some important factors to consider about the cost:
Braces – Both traditional and clear braces are extremely effective at safely and predictably guiding crooked and spaced-out teeth into their properly aligned positions. So, they are certainly an investment worth making. It is important to note, of course, that braces will leave the shade, shape, and size of your teeth untouched, requiring additional treatments.
Teeth Whitening – Professional teeth whitening is not only incredibly effective; it's incredibly quick too! Personalized treatments from our skilled cosmetic dentist in Ware can gradually remove stubborn stains – all from the comfort of your own home too! However, like braces, certain aspects of your smile will remain unchanged, like the size, position, and shape of your teeth.
Direct Bonding – Direct bonding, like veneers, is one of the only treatments that can address several dental flaws simultaneously, from the size to the shade of your teeth. It is important to remember that the results of direct bonding typically only last for a few years at a time, requiring follow-up treatments throughout the years.
Veneers – Veneers in Ware offer patients several benefits, from no downtime and complete personalization to results that last for 15+ years with proper care! So, while veneers often have a higher upfront cost, they are well worth the investment in the short and long term.
How to Make Veneers Affordable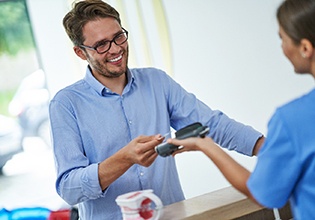 Since veneers are a cosmetic dental procedure, they typically aren't covered by dental insurance providers. Don't worry – that doesn't automatically mean they can't be affordable. With CareCredit, a trusted third-party financier, you can space out your payments into several chunks, preventing you from having to pay the lump-sum upfront. The best part? There is little-to-ZERO interest attached for qualified patients! If you're interested in learning more about this financial solution, don't hesitate to get in touch with our team.
Veneers FAQs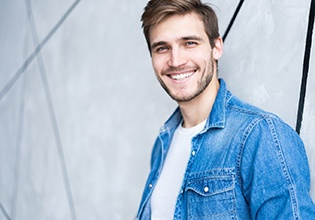 While there are many cosmetic dentistry treatments for improving your smile, veneers offer the most comprehensive solutions. Even with their promising results, it's completely normal to have questions about the procedure and what to expect. Our cosmetic dentist would be glad to provide answers to any of your concerns during your veneer consultation. However, we understand that some people like to get a fuller understanding before arriving at the dental office. Fortunately, we've taken the liberty to compile and answer several FAQs about veneers in Ware just for you!
How Many Veneers Will I Need?
The number of veneers required for enhancing your smile will depend entirely on what you and your cosmetic dentist decide. Our main goal with this treatment is for all your visible teeth to match seamlessly. If the only dental complication is a single chipped, cracked, or broken tooth, then you might only need one veneer to address the issue. Most patients receive around 2 to 4 veneers to form their new, symmetrical smile; others may need 6 to 8 or more.
Can I Still Drink Coffee With Veneers?
One of the best things about veneers is that they provide a permanent tooth whitening solution. Since they are constructed of porcelain—a nonporous material—they have a significantly higher resistance to stains and discoloration. This means you will be able to enjoy beverages containing dark-colored particles, such as coffee, without too much concern. However, just like with your natural teeth, excessive consumption of dark liquids can still have an impact on your new teeth. The best way to avoid staining your veneers is to drink coffee in moderation and to keep a proper dental hygiene routine.
Will I Have to Avoid Eating Certain Foods with Veneers?
Before receiving your permanent veneers, you will be required to wear temporary ones. Since these can become discolored more easily, it is best to avoid eating or drinking darkly pigmented foods and drinks. More importantly, you will have to keep away from hard foods—like ice or raw fruits/vegetables—to prevent damaging your restoration. After getting your permanent veneers, you can enjoy most of your favorite meals while staying wary of extremely hard or crunchy foods. This will also allow the special cement holding your veneers in place more time to harden completely.
How Long Will My Veneers Last?
A study by Layton back in 2007 found that of 304 veneers, 96% of them lasted 5 years, 93% 10 to 11 years, 91% 12 to 13 years, and 73% of them lasted 15 to 16 years. Since then, the length of time that veneers endure has steadily increased. Overall, this treatment generally has a lifespan of around 10 to 15 years, but can last around 20 years with proper dental hygiene. For this reason, brushing and flossing your teeth every day is crucial for making the most of your enhanced smile, along with visiting your dentist twice a year.
Schedule Your Consultation Today!
To learn more about how veneers can benefit your smile, please contact us today to schedule your consultation.