Dental Implants in Ware are a Modern Solution to Tooth Loss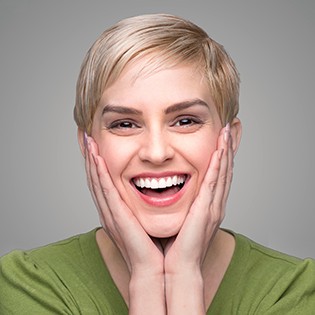 Dental implants are a superior treatment for replacing one or more missing teeth. Designed to be a permanent solution, dental implants replace not only the portion of the tooth above the gumline but the tooth root as well. This adds extra strength and stability to ensure your dental implant looks and functions just as a healthy, natural tooth would. At Dhillon Family & Cosmetic Dentistry, we use dental implants to support crowns, bridges, and dentures.
How are dental implants done?
Dr. Dhillon has the training and certification necessary to offer high-quality dental implants in Ware, Massachusetts. Because of their multi-step process and surgical component, dental implants generally take three to six months to complete. During this process, we will:
Surgically implant a small titanium post underneath your gumline and into your jawbone
Allow your smile to fully heal as the titanium post fuses to your bone
Place an attachment called an abutment onto the post, which will connect your restoration to the top of the post
Complete the dental implant by placing your permanent dental restoration over the abutment, which will be either a crown, bridge, or denture.
We look forward to helping you restore your naturally beautiful smile! We invite you to schedule a consultation with Dr. Navkiran Dhillon today to see if dental implants may be right for you.