Dental Implants – Ware, MA
A More Effective Solution to Chronic Tooth Loss
Dental implants are a superior treatment for replacing one or more missing teeth. Designed to be a permanent solution, dental implants replace not only the portion of the tooth above the gumline but the tooth root as well. This adds extra strength and stability to ensure your dental implant looks and functions just as a healthy, natural tooth would. At Dhillon Family & Cosmetic Dentistry, we use dental implants to support crowns, bridges, and dentures.
Benefits of Dental Implants
When you replace teeth with dental implants, you're truly getting a long-term solution. When examined over a 10-year period, dental implant placement has an average success rate as high as 98 percent.
On top of long-lasting durability, you're getting a replacement tooth that doesn't just look natural, but feels natural. When you're biting into your favorite cut of meat, chewing nuts, biting into apples and eating corn off the cob, a denture just won't be able to offer the functions you're looking for. Since implants are integrated with the alveolar bone, a material that's essential to creating a stable foundation, your jaw will continuously be stimulated as you chew. That means you can prevent bone resorption and maintain the overall biting force and size of your jaw.
Finally, dental implants require no wearing down of healthy teeth to place. While bridges would require buffing down nearby teeth to act as an anchor, the implants does all the work instead.
Indications for Dental Implants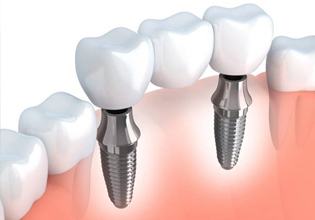 Implants are not only functional, but incredibly versatile. They can be used in a wide variety of applications, whether you need to replace one tooth or an entire arch.
Missing Single Tooth
Those missing one tooth can replace it with a single implant and one implant-retained crown placed on top. The restoration is made from porcelain, which works to create the most natural appearance while still being incredibly durable. An abutment attaches the crown portion to the implant itself.
Missing Multiple Teeth
If you're missing multiple consecutive teeth, a dental bridge retained with implants can be incredibly efficient. With just two implants, three to four teeth can be held in place. This option is far more effective than relying on natural teeth, as is common with a traditional bridge.
Missing All Teeth
Finally, if you're missing an entire arch or more teeth than what a bridge could replace, an implant-retained denture, such as an overdenture, would be most appropriate. By strategically placing four to six implants throughout the jaw, a customized denture can be snapped on and removed as needed. Other options allow the denture to remain fixed, essentially mimicking a bridge. This option is ideal for both the lower and upper jaw.
Understanding the Cost of Dental Implants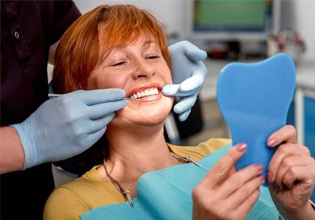 It's important to note that dental implants are a complex procedure. They involve many follow-up treatments and multiple pieces to place, all with their own costs. This includes the abutments, the restoration, the types of implants and the implant placement surgery itself. Costs may also include preparatory treatments like bone grafting and periodontal therapy if necessary.
With this in mind, remember that dental implants are an investment designed to restore your smile for decades to come. They are typically considered more cost-effective compared to other options which require replacement every several years. Dental implants have been proven to stand the test of time when properly maintained.
Dr. Dhillon can't wait to go over your options! To get started learning more about your treatment, contact our office for a consultation with the dentist today.
Dental Implant FAQs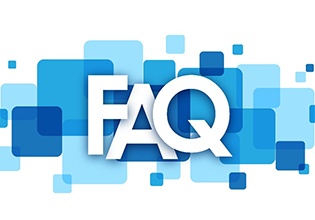 While this page has a lot of great information about dental implants, we're sure you still have questions! That's why we've gone ahead and answered some of the most common ones we hear every day below. Of course, if there is anything else you would like to know about this treatment, all you need to do is give us a call, and our team will be more than happy to help.
How long do dental implants last?
One of the most impressive aspects of dental implants is their lifespan. While traditional bridges and dentures tend to last about 7-10 years before needing to be replaced, implants can be trusted to stick around for 30+ years. This is thanks to the quality of the materials used and the fact that the titanium roots are biocompatible and bond directly to the jawbone. To keep their implants looking and functioning like new, all a patient has to do is brush and floss like normal in addition to attending regular checkups and cleanings.
What should I do if my dental implants feel loose?
Whether you are healing after implant placement surgery or have already had your new teeth attached, if at any point your implants feel loose, the first thing you should do is contact our office. Several things can cause this to happen, ranging from gum disease to teeth grinding to an injury, but one thing is consistent: ignoring the problem will only allow it to become worse. Dr. Dhillon can give you an exam to find out what is going on, and from there, she can help you resolve the problem to make sure your implants stay strong.
Will people be able to tell that I have dental implants?
No! Because dental implants don't rely on metal or acrylic attachments to stay in place, plus the restorations are usually made of custom-designed porcelain, the end result is a natural-looking set of teeth where you can't tell which ones are real and which are not! The only thing people will notice is a complete and confident smile.
Is there anything I shouldn't eat with dental implants?
In general, there are no food restrictions with dental implants because they restore almost all of a patient's bite strength. With that said, we recommend patients avoid biting down on items we would advise them to be cautious about even if they didn't have implants, namely extremely hard, sticky, or chewy foods. We also suggest that patients reduce their consumption of foods and drinks that cause staining (such as tea, coffee, darkly colored sauces, etc.). While dental porcelain is stain resistant, it isn't stain-proof, and a whitening treatment can't brighten both natural enamel and restorations at the same time.