Invisalign – Ware, MA
Beautifully Get a Straighter, Healthier Smile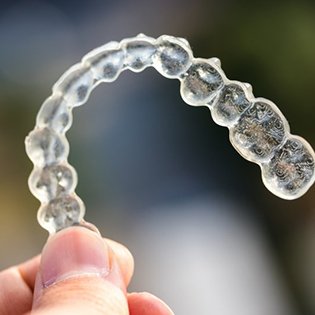 Have you always wanted to fix your crooked teeth, but hate the idea of having a mouth full of unsightly, bulky, and uncomfortable brackets and wires? If so, you're in luck! Traditional metal braces aren't your only orthodontic option anymore. At Dhillon Family & Cosmetic Dentistry, we can help you beautifully get a straighter, healthier smile with Invisalign in Ware! This revolutionary treatment is the easiest and most comfortable way to straighten your teeth. Read on to learn more and call us to schedule your consultation today!
How Does Invisalign Work?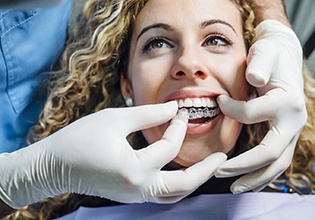 Invisalign is a completely modern approach to straightening misaligned teeth and bites. This cosmetic option is especially popular for adults who are looking for a more attractive way to correct their smile. Unlike traditional orthodontic braces, which use metal wires and brackets that need to be constantly tightened, Invisalign uses a series of clear plastic aligners that are worn snugly over the teeth. Each set represents the next step towards your ideal smile as they gradually shift your teeth into position. As long as you stay on track by caring for your aligners properly, coming in for periodic checkups, and wearing your aligners for at least 20-22 hours every day, you could easily achieve results much faster than you could with traditional braces.
How Long Does Invisalign Take?
Since every person's smile is unique, the length of your Invisalign treatment will depend on your unique situation. Several factors will go into how long it will take to straighten your smile, such as how much correction is needed, your age, and if you wear your aligners frequently enough. However, most patients generally complete their Invisalign treatment within 12-18 months, which is considerably less time compared to traditional metal braces!
What Are the Benefits of Invisalign?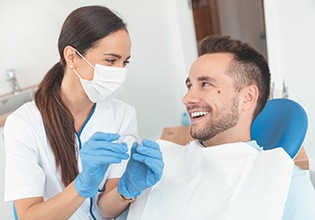 There are many benefits that Invisalign offers when compared to other orthodontic methods. Invisalign aligners are made of a comfortable plastic, so you do not have to worry about anything hurting your smile. The aligners are also removable, which means you can eat, drink, and brush your teeth without interference. You will spend less time in the dental chair, as you will only need to visit our office to receive a new set of aligners and to check on your progress. Perhaps one of the most important benefits of Invisalign is that you are also able to maintain a beautiful aesthetic throughout the entire alignment process.
Is Invisalign Right for Me?
Invisalign is a great choice for almost anyone who wants a straighter smile. During your initial consultation, we'll closely inspect your teeth, jaw, and bite alignment to determine if Invisalign is the most effective way to achieve the results you're looking for. Typically, Invisalign is great for those who have:
Crooked teeth
Crowded teeth
Gaps or spaces between teeth
Mild overbites, underbites, or other bite problems.
If you are interested in learning more about Invisalign, we encourage you to call our dental office today and schedule your consultation with Dr. Navkiran Dhillon. We are excited to help you achieve a straighter, more radiant smile!
Invisalign FAQs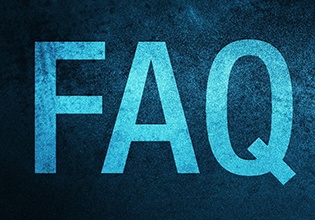 Invisalign in Ware is an excellent solution to fix your bite and alignment issues without the noticeable appearance of brackets and wires. Although you're excited to start your journey to a straight, healthy smile, we understand you have a few concerns before you're ready to commit to clear aligners. We'll explain everything during your initial consultation. While you wait for your visit, here are the answers to a few of the most common questions patients ask us about Invisalign.
How many aligners will I need?
There isn't any way to determine how many aligners you'll need without first performing a consultation because every treatment plan is unique. On average, patients who need to make significant adjustments will require more aligners than a person who only requires minor adjustments. We'll perform a thorough consultation to evaluate your bite and alignment needs to create a personalized plan to map the movement of your teeth.
What happens if I lose an aligner?
If you lose an aligner, you'll need to contact our office right away. We may recommend wearing one from the previous week until you receive a replacement. Skipping to the next aligner in the series might cause your teeth to move too quickly, which can lead to complications. You can lessen your risk of losing an aligner by keeping it in its storage case when it isn't in your mouth. Never leave it on your plate, lunch tray, or napkin to avoid accidentally throwing it away. Don't forget to rinse your aligner with water and brush your teeth before putting it back into your mouth.
How much does Invisalign cost?
There isn't a set fee for Invisalign because the cost is based on various factors, like the number of aligners you need to reach your goals. We'll provide you with a personalized estimate during your initial consultation and discuss the fees associated with your plan. We accept several payment methods to keep your treatment affordable, like using third-party financing with CareCredit. You're given the funds you need for Invisalign near Brookfield, which you'll repay using a plan that accommodates your budget.
Can I use my dental insurance to pay for Invisalign?
Every policy is unique; however, many dental insurances offer coverage for orthodontics, including Invisalign near Palmer. We will work on your behalf with your insurance company to file the necessary claim forms to help offset the amount you need to pay out-of-pocket. A member of our team will explain how your coverage is being used and if you owe a remaining balance.
Will I need a retainer after I complete my treatment?
After finishing your series of aligners, you'll need a retainer to prevent your teeth from moving back into their previous positions. It's best to wear your retainer according to our recommendations to protect your investment. If you're concerned about the appearance of the retainer, there are many discreet options. We'll help you find the solution you need to maintain your new smile without worrying about a noticeable oral appliance.