Invisalign® Braces Beautifully Straighten Your Teeth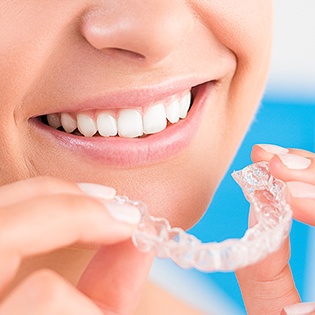 Invisalign is a completely modern approach to straightening a crooked smile. Unlike traditional orthodontic braces, which use metal wires and brackets that need to be constantly tightened, Invisalign uses a series of clear plastic aligners that are worn snugly over the teeth. Dr. Dhillon is certified to offer Invisalign in Ware, MA. This cosmetic option is especially popular for adults who are looking for a more attractive way to correct their smile. Our dental team at Dhillon Family & Cosmetic Dentistry will help you determine if Invisalign is right for you after a comprehensive examination and consultation.
What are the benefits of Invisalign?
There are many benefits that Invisalign offers when compared to other orthodontic methods. Invisalign aligners are made of a comfortable plastic, so you do not have to worry about anything hurting your smile. The aligners are also removable, which means you can eat, drink, and brush your teeth without interference. You will spend less time in the dental chair, as you will only need to visit our office to receive a new set of aligners and to check on your progress. Perhaps one of the most important benefits of Invisalign is that you are also able to maintain a beautiful aesthetic throughout the entire alignment process.
If you are interested in learning more about Invisalign, we encourage you to call our dental office today and schedule your consultation with Dr. Navkiran Dhillon. We are excited to help you achieve a straighter, more radiant smile!