Teeth Whitening in Ware Brightens Your Look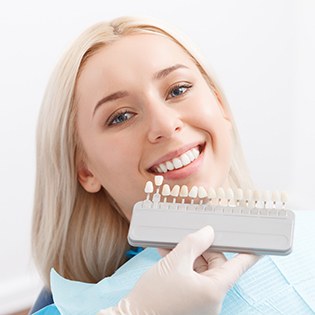 In Ware, teeth whitening is one of the most popular treatments we offer. This is because there are virtually no other services that can provide such dramatic cosmetic results in such a short amount of time. The goal of teeth whitening is to restore your natural tooth color or make them even whiter for a more dazzling smile. Many things can stain or color your dental enamel over time, including smoking, coffee, wine, and poor hygiene and eating habits. At Dhillon Family & Cosmetic Dentistry, we provide teeth whitening to help you regain confidence in your smile. For a brighter, whiter smile, we invite you to
contact a member of our friendly dental team
to learn more.
How do I whiten my teeth?
Our preferred method of teeth whitening is at-home whitening trays. This allows you to be in complete control of the whitening process. Dr. Dhillon will take molds of your smile and make custom plastic trays that are designed to be worn over your teeth. A whitening gel is provided and placed into the trays before use. You can whiten your smile by up to 8 shades in a period of just a few days with this method. We are dedicated to helping you achieve a smile you will be excited to share!
Boost! Whitening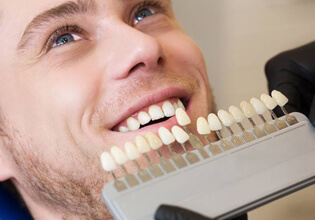 Are you interested in perking up your smile without investing a significant amount of time or money in cosmetic dentistry? Teeth whitening in Ware may be a great option. Boost! Whitening is an in-office whitening treatment that can help you get a brighter, more attractive smile after just one visit to our office. This in-office whitening method can lift stains by up to 8 shades -- all in less than an hour! Don't want such quick results? Try our take-home whitening instead. Keep reading to learn just how both options work and which one may be best for your smile.