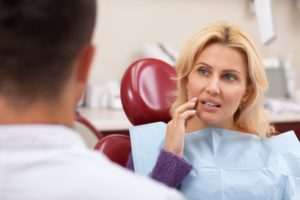 A smile makeover can deliver a major upgrade when someone has multiple cosmetic flaws in their smile to address. Since it usually involves one or more treatments and procedures with an investment of money, time, and perhaps some slight discomfort, it's a big decision. In a case like that, you need to get as much information as possible to make an informed choice. Do you need help determining whether this is the right solution for you? Here are five questions you could ask during a consultation with your cosmetic dentist in Ware to help you make a confident and informed decision.
Do You Have Examples of Previous Smile Makeover Patients I Can See?
If your dentist is qualified and confident in their abilities, they'll be proud to show off before-and-after photos of previous patients. Seeing their past work will give you a better idea of what you can expect your results to look like, especially if you ask to see examples of patients treated for similar dental flaws as your own.
What Will Be the Timeframe for My Smile Makeover?
This answer is definitely based on the treatment needs of each individual. The exact length of your smile makeover truly depends on the complexity of your dental problems. For example, if you have minor flaws, you might only require a single dental visit.
But if you have an array of imperfections, it will necessitate several procedures and treatments to attain your desired results. During your consultation, your cosmetic dentist will assess your unique needs and goals and give you an estimated timeframe for completion.
What Various Flaws Can a Smile Makeover Correct?
Almost any dental problem can be fixed with a smile makeover procedure. Chipped, uneven, broken, misshapen, crooked, or discolored teeth can all be corrected with cosmetic treatments and procedures. Whether you have one chipped tooth or an entire row of crooked teeth, your smile can be restored to perfection in no time!
How Long Will My Smile Makeover Results Last?
When you are set to invest time and money into your smile, of course, you want to know it's going to be worth the effort. While no dental treatment or procedure is meant to last forever, your dentist should have the skills necessary to ensure your results are long-lasting. Make sure you ask them about their plan to maximize tooth restoration longevity. If they cannot explain it, there's no guarantee the procedure will be effective beyond the first year.
Will My Results Look Natural?
Are you concerned that your results may look fake or overdone? Don't worry – your cosmetic dentist will do their best to ensure your smile remains as natural-looking as possible. Of course, the degree to which your grin looks natural depends heavily on the dentist's expertise and ability. Before moving forward with a smile makeover, make sure your cosmetic dentist is qualified and has extensive experience in the field.
Preparation and information gathering like this is a wise move when you are making a major decision with dentistry or any aspect of life. After you schedule a consultation with your cosmetic dentist, use these questions as part of your research efforts so you don't arrive and say, "What do I need to know?"
About the Author
Dr. Navkiran Dhillon earned her dental doctorate from Boston University, graduating at the top of her class. She has been working for the smiles of patients for 12 years. Dr. Dhillon is a member of the American Dental Association. If you are considering a smile makeover, she offers Invisalign, teeth whitening, veneers, Lumineers, metal-free restorations, and direct bonding. Schedule a consultation on her website or call (413) 967-7140.